Carbon 12 | Free Premium Blogger Template |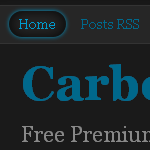 Once again, I'm here with another free premium Blogger template,
Carbon 12
. The template was named after the most abundant isotope (
12
C) of element Carbon. "Carbon 12″ is a template with dark background, right sidebar, and fixed width. It is a fast-loading template which uses no graphics or images (except for the icons). All the effects such as the rounded corners, box shadow,text shadow and more were achieved using CSS3 techniques.
Screenshot: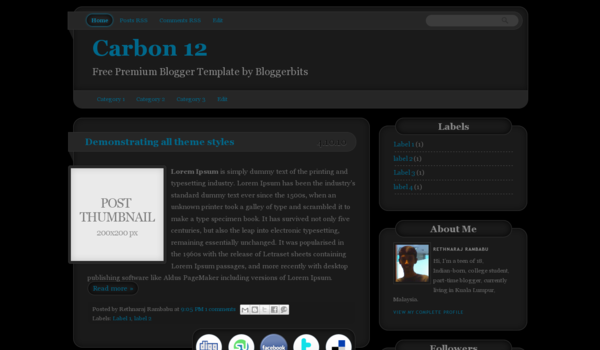 Here are some unique features of this template:
Fast loading template (tested using only three widgets shown in the demo)
Two navigation bars
Stylish social share icons at the bottom of post
Stylish post header
Post image thumbnail
This template is best viewed in CSS3 supporting browsers.
---
Software-Maxtron Software-Q-Dir 5.081
Software- BitTorrent 7.6.1 Build 27190
Software-Mozilla Firefox 13 Beta 3
Software- Safari 5.1.7
Software- Opera Web Browser 11.64.1403
Software-Orbit Downloader 4.1.0.7
Software- MediaCoder 0.8.12 Build 5242
Software- Microsoft Silverlight 5.1.10411.0
Software-HWiNFO32 v3.95.1620 Beta
Software-McAfee AVERT Stinger 10.2.0.620
Software-Avira AntiVir Free 12.0.0.1125
Software-OpenOffice.org 3.4.0
Software- SlimBrowser 6.01.034
Software-WinSCP 5.0.7 Beta
Carbon 12 | Free Premium Blogger Template |
Software-Wolfcoders SecurityCam 1.3.0.0
Software-uTorrent 3.2 build 27180 Beta
Software-Mirillis Action! 1.3.1.0 Multilingual + Full Version
Software-Windows Repair 1.7.2
Software-Anvir Task Manager 6.7.1
Software-Skype 5.9.0.115